Joel Lefever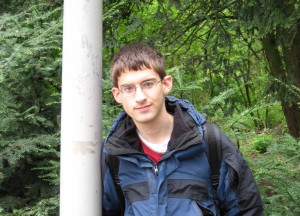 Phone Number: 215-898-4591
Email: lefever@seas.upenn.edu
Office: 112 Towne
Education
PhD., Materials Science and Engineering, University of Pennsylvania (Expected 2017)
BS., Mechanical Engineering, Lafayette College (2012)
Research Interests
Currently, I study stress-driven deformation mechanisms in disordered materials. Systems include bulk metallic glass, amorphous carbon, and deposited nanoparticles. Previous and ongoing research projects include nanotribology, biomechanics, and pedagogy.
Publications
T.D.B. Jacobs, J.A. Lefever, and R.W. Carpick. Measurement of the length and strength of adhesive interactions in a nanoscale silicon-diamond interface, Advanced Materials Interfaces [Accepted].
T.D.B. Jacobs, K.E. Ryan, P.L. Keating, D.S. Grierson, J.A. Lefever, K.T. Turner, J.A. Harrison, and R.W. Carpick. The effect of atomic-scale roughness on the adhesion of nanoscale asperities: a combined simulation and experimental investigation, Tribology Letters (2013) 50:81–93.
J.A. Lefever, J.J. García, and J.H. Smith. A patient-specific, finite element model for noncommunicating hydrocephalus capable of large deformation, Journal of Biomechanics (2013) 46:1447–1453.